Nice presents for the children at The Grasshopper – Grasmarkt 39-43 – https://www.thegrasshopper.be/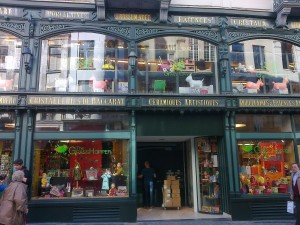 Aux Merveilleux – Grasmarkt 7 – Enjoy the delicious Merveilleux pastries of the famous Northern French confectioner Frederic Vaucamps. – http://www.auxmerveilleux.com/home/
Muntpunt – Munt 6 – the Dutch Public Library of Brussels where it is pleasant to read newspapers and/or weekly journals – https://www.muntpunt.be/
Cinema Palace – Anspachlaan 85 – Brand new ! The former Brussels Pathé Palace cinema has been completely renovated. Le Palace is now an arthouse cinema with four theatres. In this complex you will also find a restaurant, bar, cultural shop and foyer. – https://www.cinema-palace.be/nl/praktisch
Cinema Aventure – Centrumgalerij 57 – This cinema is located in the heart of Brussels and has 3 rooms. Pure nostalgia ! – https://www.cinema-aventure.be/
The Home of Cooking – Leopoldstraat 3 – The best shop for cooking utensils can be found on the corner of the Leopoldstraat and the Schildknaapstraat. – https://www.homeofcooking.com
Anticyclone des Açores – Wolvengracht 34 – a travel bookshop in the heart of Brussels, specializing in travel guides, maps for walking and cycling, world atlases, globes, maps, etc. – http://www.anticyclonedesacores.be/
Waterstone's – Adolphe Maxlaan 71-75 – The English-language bookshop in Brussels – https://www.waterstones.com/bookshops/brussels
Discovering big names in the music world at the Ancienne Belgique – Anspachlaan 11 – https://www.abconcerts.be of the Botanique -Koningsstraat 236 – 1210 Brussel.
Noordzee, a fish shop where you can order delicious snacks with a glass of wine at the bar outside at the Sint-katelijneplein.
– http://noordzeemerdunord.be/?lang=en
De Monk – Sint-Katelijnestraat 42 – a Flemish brasserie in Brussels – http://www.monk.be/
The Vlaamse Steenweg with its many cosy restaurants and trendy shops and The house La Bellone (Vlaamse Steenweg 46), in late baroque style and with famous facade, houses a center for the performing arts and plays.  – https://www.bellone.be/
The breweries are back in Brussels! Visit one of the many, the Brussels Bear Project. You can visit the brewery and enjoy a delicious glass of beer – Dansaertstraat 188 – https://www.beerproject.be/nl
Dille en Kamille – Jean Stasstraat 16, 1060 Brussel  and Grasmarkt 36 – https://www.dille-kamille.be/nl/content/1713/brussel
Café Belga – Eugène Flageyplein 18, 1050 Elsene at the bottom of the Flagey building, always busy and international – https://newplacestobe.com/cafe-belga-brussel/
Tired of shopping and want to take a break in a typical Brussels establishment, click here.