Some Brussels establishments near or on the Grand Place:
Le Roy d'Espagne – Den Coninck van Spagnien – http://www.roydespagne.be/en/index.php – Grand Place/Grote Markt 1 – This establishment was built in 1697 and was originally the headquarters of the bakers' guild. It was named after the bust of Charles II who decorated the facade of the second floor. Charles II was the king of Spain in 1697 and sovereign of the southern Netherlands. At that time, Belgium was part of the southern Netherlands. During the French Revolution this building was partially destroyed but it was restored in 1902 as part of the restoration of the Grand Place on the initiative of Mayor Karel Buls.
La Maison du Cygne, a beautiful 17th-century building on the Grande Place/Grote Markt where the butchers' guild used to sit, is one of the most luxurious eateries in Brussels. About 160 years ago it was a café where ordinary workers also came to the floor. The famous founder of communism, Karl Marx, visited this establishment.
De Poesjenellekelder – http://www.poechenellekelder.be/ – Eikstraat 5 – This small, cosy cafe is located right opposite the statue of Manneken Pis. You'll find a lot of Brussels folklore and a beautiful collection of old theatre puppets.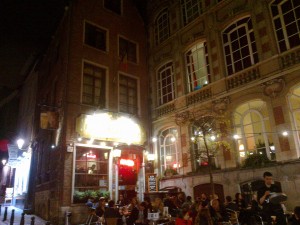 Cirio – Beursstraat 18 – The Italian Francesco Cirio founded in 1886 a shop and consumer room with italian specialities in the Beursstraat. Not much later, a brasserie was built which is called unique in Brussels because of its charm. The interior is partly furnished in neo-Renaissance style and partly in art nouveau style. The speciality of the house is the half and half, a mixture of white wine and champagne or sparkling wine. It was once one of Jacques Brel's favourite bars.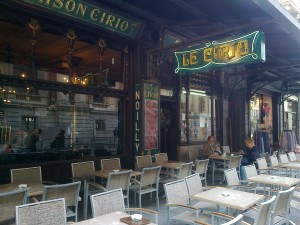 Estaminet du Théâtre Royal de Toone – http://www.toone.be/?lang=en – 66 Grasmarkt – Sint-Petronellagang – The Royal Theatre Toone in Brussels is an original and authentic popular theatre steeped in Brussels history and culture. It is a symbol of stability and continuity in the cultural and folkloristic landscape of Brussels. The puppet theatre is located a stone's throw from the Grand Place in an old house dating from 1696.
Mokafé – Royal Gallery 9 – For more than seventy years, you can have a terrace in the winter in Mokafé, where the rattan chairs enjoy eternal shelter under the glass roof of the beautiful Royal St. Hubertus galleries.