If you walk from the Grote Markt to Manneken Pis then you come across the Hotel Amigo. The rue de l'Amigo/Hotel Amigo is a reminder of the presence of Spanish domination. The name comes from a prison ('vrunte' in Flemish) built in 1791. During the Spanish occupation, Spanish soldiers thought that 'vrunte' stood for 'friend', which gave rise to the French name 'Rue de l'Amigo'. The Amigo is still the name for the police station on the coal market.
There are also many souvenir shops where they sell Belgian Beer and Belgian Chocolates.
In the famous Biscuiterie Dandoy, founded in 1829, you can buy speculoos and almond rolls, the "pains à la grecque".
Manneken Pis, a folk symbol, is the mascot of the city of Brussels. This manneken symbolises the protesting, carefree, rebellious Brussels citizen. The figurine is 55,5 cm high and weighs 17 kg. Interesting to know is that in the Middle Ages urine was very important for the tanners and weavers. It was used for tanning animal skins and degrease wool. Every morning a city official collected the urine from the residents of the district.
The statue was made by Hieronymus Duquesnoy the Elder in 1619 by order of the city council to decorate a public fountain.
Manneken Pis is world famous for his roguish appearance and the many legends that were woven around him. Legend has it that Brussels was attacked by enemies who at one point pretended to surrender. In reality, however, they put gunpowder under the ramparts and wanted to blow up the city. A little boy, called Julian, would have seen the fuse on time and pee it out. In this way he saved the city from its destruction.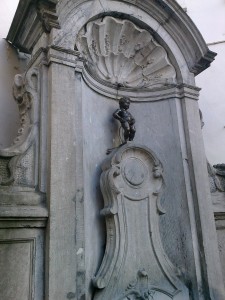 The new "Garde Robe Manneken Pis museum" (Manneken Pis' wardrobe museum) was opened on 4 February 2017 in the Eikstreet 19, a stone's throw from the fountain. You can see the collection of more than 800 costumes from the famous statue. The cloakroom of Manneken-Pis has more than 800 costumes. The collection, heritage of the City of Brussels, is preserved in this brand new museum.
Walk back to the Grand Place, cross the market and, right next to the establishment le Roy d'Espagne, take the Boterstraat, which runs out, turn to the right (Zuidstraat) and then immediately back to the left (Beursstraat). You come out at the back of the former Brussels Stock Exchange building (de beurs).